In this stunning new book by renowned photographer Howard Schatz, every turn of a page reveals surprising connections and unexpected relationships in the pairing of images.
Intended for mature audiences, this remarkable work, spanning 30 years and 365 photographs, is Schatz's exploration of the relationship between two subjects or images. Couples or colleagues; actors or acrobats; fighters or friends; lovers or dancers; newlyweds or newborns: the photographs in this book reveal the passionate and dynamic, subtle or obvious, and always compelling, mystery of relationship.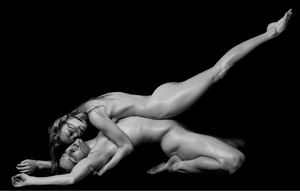 "Howard Schatz is so versatile that this volume at times seems like the work of a dozen photographers, Weegee, Avedon, Penn, Beaton, Newton, and Goude, among them. He has affection for his subjects — athletes, dancers, models, actors, pregnant moms, and interesting nobodies- and it shows in every remarkable image. Sometimes funny, often dramatic, he is a master both of the quiet revealing portrait and the explosive surprise."
"Howard Schatz has left a legacy of brilliant photographs that look like they came from a multiple of very talented photographers. I thought I had seen it all in photography. Perhaps after this book I have. Brilliant."
"Far too many photographers find a single visual style and build a career on it. Howard Schatz's creativity and vision could never be so constrained. He has the quintessential ability of all great artists to constantly grow, change, morph, and expand his vision and his images, as this book of his photography demonstrates with stunning originality."
"To survey Howard Schatz's photographic career is to take a tour of a creative mind in perpetual motion. Often breathtaking and always thought-provoking, Howard's oeuvre is the result of a restless and inspired pursuit of beauty and insight. His images are the product of a once in-generation intellect enabled by a truth-seeking eye."
PAIRS is available now. $40.00 +$10 S&H.
Over 400 pages with 365 color and black/white photographs, an outstanding gift for anyone who loves great photography.